Angular Contact Bearings Explored
What are Angular Contact bearings?
One explanation is to understand the construction of Angular Contact Bearings as they are designed with relief in the ring raceway shoulders. The outer ring would have a relieved raceway shoulder. The inner ring would have a relieved raceway shoulder. The raceway outer and inner rings are opposed which allows for loads in only one direction otherwise the bearing falls apart if incorrectly installed.
Angular Contact Bearing Types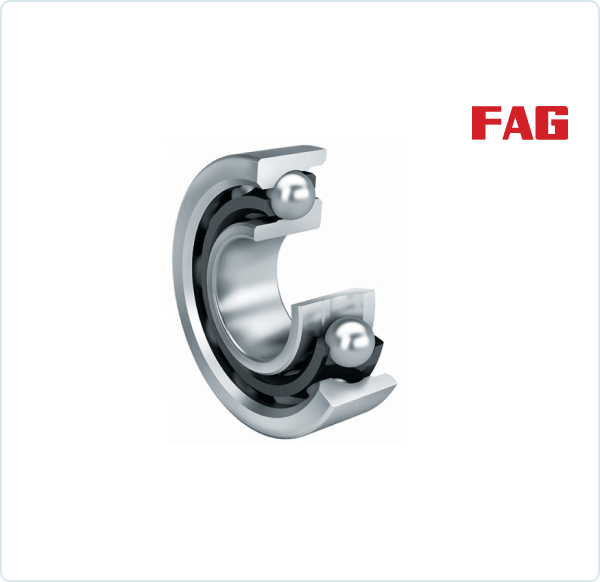 In this FAG bearing displayed you can see the outer ring is relieved along with the inner ring with the balls retained by the ball separator. This is a typical representation of a Single Row Angular contact bearing whether it be a precision or a standard type.
Other types of Angular Contact Ball Bearings include axial angular contact double row and double row sealed or shielded.
Angular contact ball bearings have inner and outer ring raceways that are displaced relative to each other in the direction of the bearing axis. These bearings are designed to accommodate combined loads, i.e. simultaneously acting radial and axial loads.
Double-row angular contact ball bearings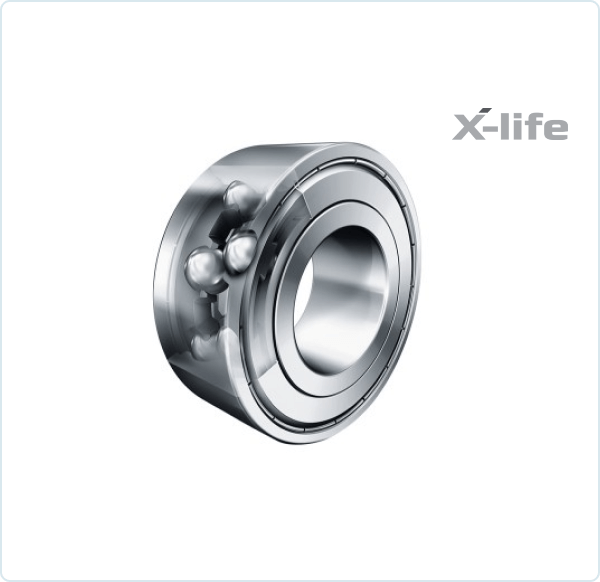 Double-row angular contact ball bearings due to their construction accommodate both radial-axial loads in both directions. When rigid axial requirements are needed this is a perfect selection. This type of bearing might be used where space requirements do not accommodate a pair of singles or other circumstances requiring seals or shields. Generally, this type of bearing will have a more narrow cross-section with two single bearings paired.
Single Row Angular Contact Ball Bearings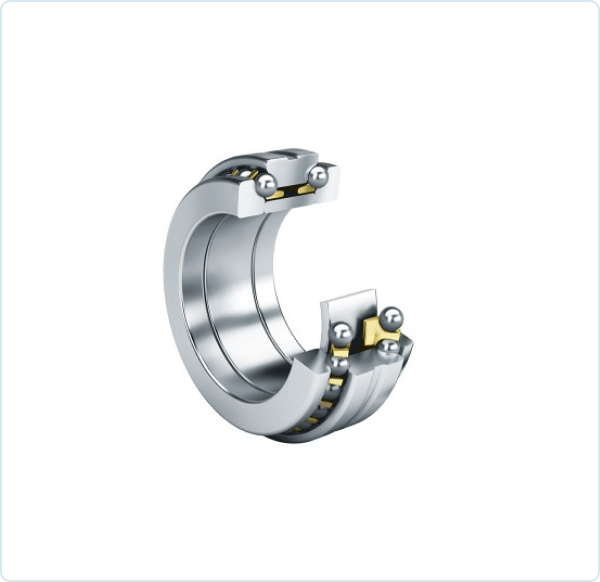 Single Row Angular Contact Ball bearings are by far the most popular type. Single Row ACBB bearings can be used by themselves in pairs, quads, or other arrangements suitable to the requirement. Generally for low or standard speed standard applications ACBB bearings are sometimes manufactured with contact angles of 40 and or 60 degrees. These would be used in applications such as ball screws which sometimes are referred to as Ball Screw bearings. Other applications would be for agricultural pump motors, electric motors, gearboxes, steel mills, windmills, and conveyors. As the bearings become more precise and are designed for specific speeds and load the angles available include 30, 25, 18, and 15 as standard. The ACCB bearings with contact angles in the range of 15-30 will generally be of higher precision such as ABEC5, ABEC7, and ABEC 9. Applications include High-Speed spindles and Machine tool bearings. When higher speeds are involved then other things like the precision of the bearings and the use of ceramic balls and special material retainers play a huge role in determining the selection
What is the contact angle?
The contact angle is the angle between the line connecting the points of contact of the ball and the raceways in the radial plane. When thinking about the internal geometry of ball bearings we understand that the force is transferred through the balls from one ring to another under load conditions. Contact areas are small between the rings and the balls so any loads can produce tens to thousands of pounds of stress per square inch. The design of ACBB bearings must consider the internal geometry of radial play, raceway curvature, and contact angle so as to deal with the intense internal stresses which of course matter greatly in impacting life and performance.
Alier (Hongkong) Bearing Co.,Ltd offers options for standard to high-precision Angular contact bearings from FAG, SKF , NSK and others. Please
contact ALIER
for further information.