Different Types Of NTN Bearings And Uses
Ball Bearings
Ball Bearings are mechanical assemblies that consist of rolling spherical elements that are captured between circular inner and outer races. They provide a means of supporting rotating shafts and minimizing friction between shafts and stationary machine members. Ball bearings are used primarily in machinery that has shafts requiring support for low friction rotation. There are several configurations, most notably shielded or sealed. Ball bearings are standardized to permit interchangeability. Ball bearings are also known as rolling element bearings or anti-friction bearings. Considerations include
First choice for high speeds or high precision apps
Large range of standardized forms
Handle radial and axial loads with specific configurations
Roller Bearings
Roller Bearings are mechanical assemblies that consist of cylindrical or tapered rolling elements usually captured between inner and outer races. They provide a means of supporting rotating shafts and minimizing friction between shafts and stationary machine members. Roller bearings are used primarily in machinery with rotating shafts that require the support of heavier loads than ball bearings provide. Tapered roller bearings are often used to accommodate higher thrust loads in addition to the radial loads. Types range from cylindrical to spherical rollers. Roller bearings are standardized like ball bearings, albeit to a lesser degree. Considerations include
Higher load capacities than ball bearings
Can withstand high axial loads
Mounted Bearings
Mounted Bearings are mechanical assemblies that consist of bearings housed within bolt-on or threaded mounting components and include pillow blocks, flanged units, etc. They provide means of supporting rotating shafts and minimizing friction between shafts and stationary machine members. Mounted bearings are used primarily in machinery with exposed rotating shafting. They are used as take-up devices on the ends of conveyors and as flanged units along intermediate points. The bearings can be rolling element or journal bearing configurations. Mounted bearings are designed for bolt-on mounting and ease of replacement. Other varieties of mounted bearings include rod end bearings and cam followers. Considerations include
Housed units reduce mounting concerns, protection issues
Cartridge designs ease replacement
Shafts usually held in place with set screws
Allow adjustment of the supported components
Mainly used for low/mid speed applications
Need NTN Bearing 6205LLU, click here to learn more about it.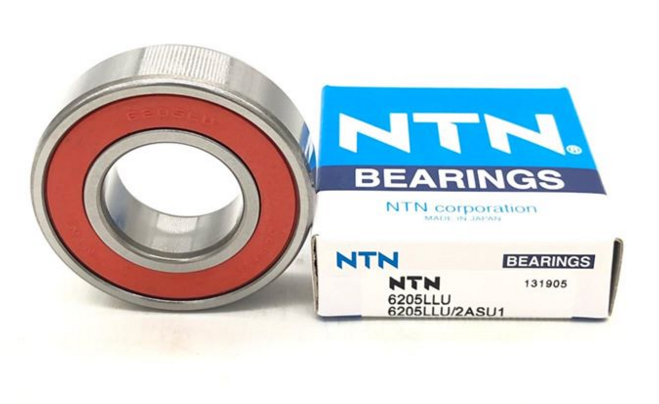 Linear Bearings
Linear Bearings are mechanical assemblies that consist of ball or roller elements captured in housings and used to provide linear movement along shafts. Linear bearings are used primarily in machinery that requires linear movement and positioning along shafts. They also may have
secondary rotational features depending on the design. Considerations include
Lower friction and higher accuracies compared with bushings
Costlier and more complex than bushings
Slide Bearings
Slide bearings are mechanical assemblies designed to provide free motion in one dimension between structural elements. Slide bearings are used primarily in the structural support of bridges as well as commercial and industrial buildings. These parts accommodate thermal movement, allow for end-beam rotation, and isolate components of the structure against vibration, noise, and shock. Other types of slide bearings include those used on truss base plates, heat exchangers, and process equipment.
Jewel Bearings
Jewel bearings are mechanical devices used in light rotating applications such as watches, meter movements, gyroscopes, etc. where loads are small and the supported rotating shafts are tiny. Jewel bearings are constructed from a range of synthetics, with ruby and sapphire being particularly common.
Click here to buy NTN Bearing 6208LLU/2ASU1.


Frictionless Bearings
Frictionless bearings are mechanical or electro-mechanical alternatives to conventional bearings that provide controllable shaft support through air, magnetic fields, etc. for critical, high precision applications.

Alier Bearing Limited has been engaged in foreign trade for more than ten years. The products are exported to more than 50 countries overseas, and have won wide acclaim from our customers. Looking forward to the first cooperation with new customers and establishing a long-term cooperative relationship.